Advocates File Lawsuit Over Threat to Eject and Arrest People Left Homeless by Miami-Dade Residence Restrictions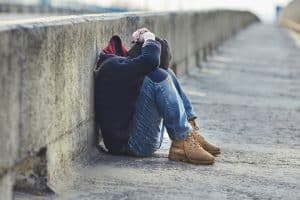 Attorneys from Legal Services of Greater Miami, Florida Justice Institute, and the ACLU of Florida's Greater Miami Chapter have filed a lawsuit on behalf of a group of homeless individuals encamped at NW 71st Street and NW 36th Avenue, challenging Miami-Dade County efforts to forcibly evict their encampment under threat of arrest.
The lawsuit argues that a threat by Miami-Dade County to jail people beginning this week who have been forced to live in the encampment for years due to the county's onerous residence restrictions for people with past sexual offenses is unlawful, contending that the individuals have nowhere else to go.
The county has prohibited these individuals from living within 2,500 feet of a school, which in practice prohibits them from living in almost every residential unit in the county. The county's restrictions go far beyond the state's residence restrictions. In order to work and live, these individuals have resorted to living in tents or in their vehicles at this encampment in an industrial area of unincorporated Miami-Dade County that lies in one of the few areas of the county not excluded by the residence restriction. Recently, the Miami-Dade Police Department and other officials had begun to instruct people living in the current encampment to vacate and move to the intersection of Krome and SW 88th Street, which is more than a mile from the nearest bus stop, running water, electricity, or a restroom.
"This encampment is obviously not an acceptable housing situation for anyone, but to further violate our client's constitutional rights to solve a problem that the county created in the first place is cruel," said Jeffrey Hearne, Director of Litigation at Legal Services of Greater Miami.
"Since the housing ban lasts for life, many of these people are elderly, infirm, or incapacitated," said Valerie Jonas, cooperating counsel with the ACLU of Florida. "If the hundreds of individuals are banished to the border of the Everglades, they will be forced to live out their lives on the literal margins of society without any cover from the elements. The county created this problem by restricting areas in which our clients can and cannot live, and the county can solve this problem now by repealing the residence restriction."
"The county's decision to evict and arrest those living at the encampment shows that the county has no intention of eradicating homelessness or ensuring public safety," stated ACLU of Florida legal director Nancy Abudu. "Instead, it is simply shifting the problem to another location and ignoring the reality of the unsafe, unsanitary conditions in which so many people are living. This lawsuit is an effort to halt the county's unlawful actions."
Advocates for the plaintiffs in the case are seeking an emergency injunction from the court preventing the county from taking any action to close the encampment.
A copy of the lawsuit filed today is available here: https://www.aclufl.org/sites/default/files/complaint_dec_action.pdf
A copy of the emergency motion for temporary injunction is available here: https://www.aclufl.org/sites/default/files/emergency_motion_for_temporary_injunction.pdf
A map showing the impact of the residence restriction in Miami-Dade County is available here: https://www.aclufl.org/en/file/2643
In separate litigation -- Doe v. Miami-Dade County -- the ACLU, ACLU of Florida, Legal Services of Greater Miami, and attorney Val Jonas contend that the county's residence restriction for certain former offenders cannot be constitutionally applied to those whose offense occurred before the county enacted the residence restrictions. Trial in that case is set for October 2018. More information on that case is available here: https://www.aclufl.org/sites/default/files/90-second_amended_complaint.pdf